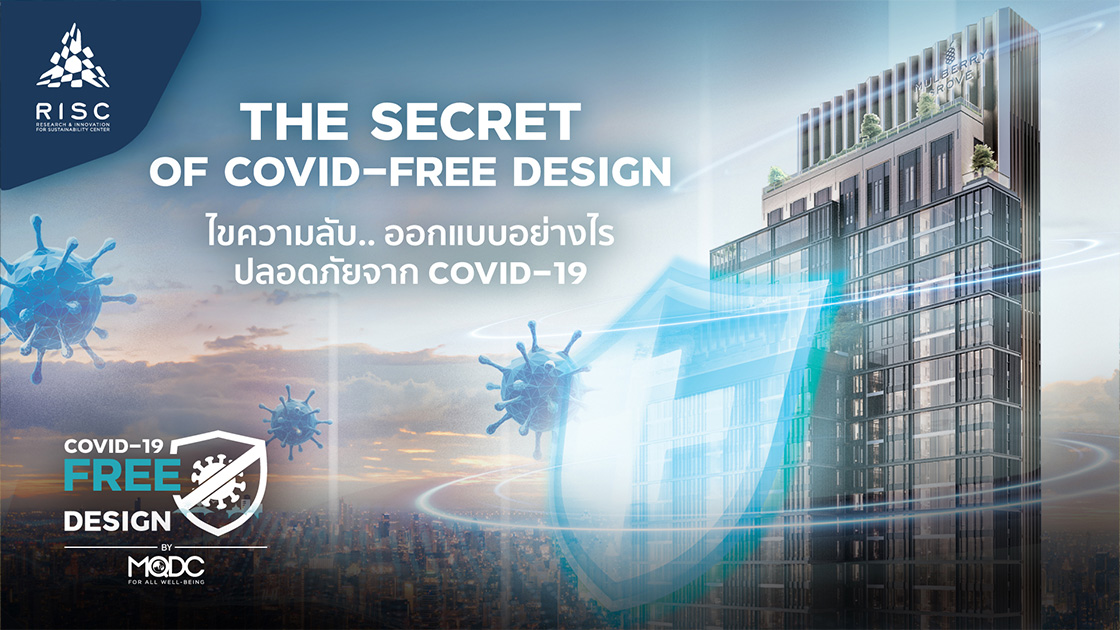 Mar 10, 2021 INNOVATION
MQDC and Research & Innovation for Sustainability Center (RISC) Unveil Residential Design to Protect from COVID-19 with The Secret of MQDC's COVID-Free Design
10 March 2021, Bangkok – Mr. Visit Malaisirirat, CEO of MQDC – Magnolia Quality Development Corporation Limited, revealed how MQDC has applied its "For All Well-Being" strategy for the well-being of all life with new design for the health and hygiene of residents and local neighborhoods that stops germs from spreading. MQDC with its Research & Innovation for Sustainability Center (RISC) has launched a "COVID-Free Design" strategy with anti-infection design principles. In combination with the MQDC Well-Being Standard, the new principles protect MQDC residents, reducing their risk of infection throughout the pandemic.

"MQDC is strongly committed to establishing design standards for preventing the spread of bacteria and viruses, including COVID-19, to safeguard health and hygiene for residents and homebuyers in current MQDC projects. Under the 'For All Well-Being' concept, we have partnered with RISC to develop residential design to reduce the spread of the disease. We are ready to share insights through 'The Secret of COVID-Free Design' campaign for designing disease-free spaces in conjunction with the MQDC Well-Being Standard to let everyone, including residents and homebuyers, live normally in the New Normal," said Mr. Malaisirirat.

Assoc. Prof. Dr. Singh Intrachooto, Chief Advisor to RISC by MQDC, said that space design principles to protect residents during a pandemic are crucial. RISC has accelerated its design and innovation strategies to curb transmission in homes and communities. These measures are summarized as clear guidelines in "The Secret of COVID-Free Design", which has 4 elements integrating the MQDC Well-Being Standard:

1. Disinfection Zone: Design for a sterile home area that prevents and eliminates pathogens by specifying and designing elements such as the foyer with a "2-layer entrance air purifier" and systems to kill germs in the air in elevators or on surfaces such as clothes or bags. Antiviral and allergy-free (AVA) carpets and home textiles can prevent pathogens breeding and stop germs from coming in with shoes.

2. Smart & Touchless: Space design applies innovations and technology to reduce exposure and transmission from areas and activities. The guidelines involve sensors and an intelligent system with facial recognition and temperature measurement at entrances. Automatic doors and faucets reduce touch. A touchless lift uses infrared radiation with a virtual screen and automatic sterilization using nano-coating.

3. Happy Working from Home: Design of individual living spaces supports working from home with ergonomic design and a 'disinfection box' for receiving and delivering parcels and food. Design also ensures thermal comfort and good air quality, reduces electromagnetic fields (EMF), and provides lighting that suits activities and the circadian rhythm. Shared areas for co-working have good ventilation and maintain physical distancing to reduce transmission risk. An area designated for phone calls also reduces noise. Vending machines in residential areas are located conveniently for lockdowns.

4. Management Protocol: Policies and procedures to prevent COVID-19 include principles of disinfection and appropriate methods for cleaning premises. Spacing measures reduce the risk of spreading pathogens with design that uses communication systems and applications to reduce meetings and contact. The policy covers the installation of the Fahsai 2 city air purifier, which purifies the air to reduce PM2.5 and eliminate viruses and bacteria. Standards cover cleaning and dealing with people considered at risk. Waste disposal involves waste bins and equipment for used masks. Specialized red zip-lock bags can limit infection risks and help proper disposal.

"All these critical elements that MQDC and RISC have developed in line with health and wellness issues promote residential and communal well-being and reduce COVID-19 exposure and infection from day-to-day activities in MQDC residences to make project areas sterile, concretely realizing the concept of 'For All Well-Being'," said Dr. Singh.
Research & Innovation for Sustainability Center
Magnolias Ratchadamri Boulevard 4th Floor Ratchadamri Road,
Lumpini Sub-district, Patumwan District, Bangkok 10330

---
Opening Hours
Monday – Friday | 11.00am – 5.00pm
---
Directions