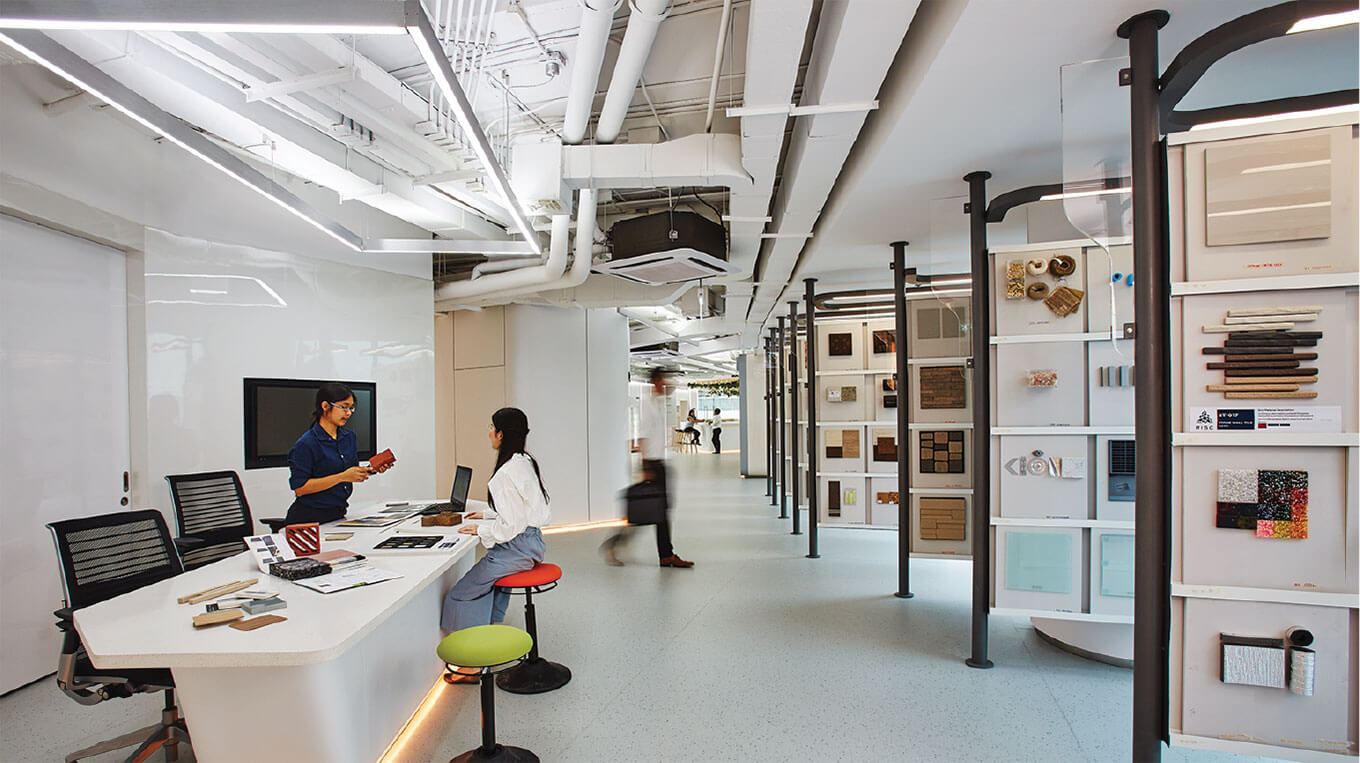 Well-being Material Library
As RISC researchers, we focus on the search for the best materials to implement in construction projects as well as for a better quality of life according to our concept of "for all well-being".
Expanding our Integrated Research Network and building partnerships with public sector eco-designers and manufacturers, the library will exponentially grow and become one of the most extensive eco-material collections available.

Materials Display
This is the first library to collect and display eco-materials for design and architectural applications to support designers. The library also showcases the most updated material trends.

Materials Studio
Material Studio Workshop is a space for preparing new materials for the RISC library. The studio includes a photo studio and material storage space. It is also a space for collaborative workshop activities to exchange ideas and information.

Materials Online
The information on all materials will be collected and digitized for our online database which you can conveniently search for information. In the future, this database will be the most comprehensive material database available.
Categories & Definitions
RISC Well-being Material Library classes its contents into 16 categories.
Natural material substitutes

Materials whose use reduces the use of natural resources such as mountain soil and forest

Compostable

Materials that compost into a stable material similar to soil

Degradable

Materials that can be degraded into small pieces of predetermined sizes within a specified time

Designed for disassembly

Materials designed to be disassembled after use so their parts can be recycled or transformed into fuels or put to other uses

Extended product life

Materials designed for long product life through upgradability or extra durability

Recovered energy

Products that reduce energy demand through waste-to-power processes

Recyclable

Products or their packaging or related components that can be recycled into materials or products

Recycled contents

Materials made from waste or recycled elements

Reduced energy consumption

Products whose normal use requires less energy that equivalent products performing the same tasks

Reduced resource use

Products with reduced requirements in materials, energy, and water in their manufacturing or transport

Reduced water consumption

Products that require less water to perform their intended functions

Reusable and refillable

1) Reusable: Products or packaging designed to be reusable or to perform their duties several times in their lifecycles

2) Refillable: Products or packaging designed to be refillable with their original contents or a similar substance without adjusting the process except for cleaning

Waste reduction

Products that decrease the quantity of the materials that become waste, through alterations to the product, process, or packaging( including waste released into the air and water during production or treatment)

Renewable materials

Materials made using biomass that is abundant and can be regrown

Renewable energy

Materials made using power from sources such as solar, wind, biomass, and geothermal

Health and safety materials

Materials with low toxicity that cause no harm to humans, animals, and the environment
Our Objectives & Commitment
Our objective is to be Thailand's first Well-being Material Library that contains the most comprehensive collection of eco-materials to best meet the needs of researchers, architects, designers, students, and the general public.
RISC has collected and selected over 300 environment-friendly construction materials for the center. We constantly change the displays and update the information as well as showcase the most popular materials of the year to provide reference information for design and construction purposes. Furthermore, the RISC center is the largest hub for new eco-design in Thailand.
NA-18-0014
I-MESH
Country: Italy
Category: NA - Natural
Release Year: 2018
I-MESH is made from eco-friendly natural fiber weaved in a rectangle. The material characteristic is rigid but flexible. It can be applied in various uses such as an exterior building. It can also filter solar radiation, reduce surrounding temperature and help for air ventilation. For interior use, it can absorb noise and resonance. Moreover, it is non-flammable which can use as insulation, easy to install and maintain.
---
Sign up for free membership and gain access to our facility, which includes the Well-being Material Library.