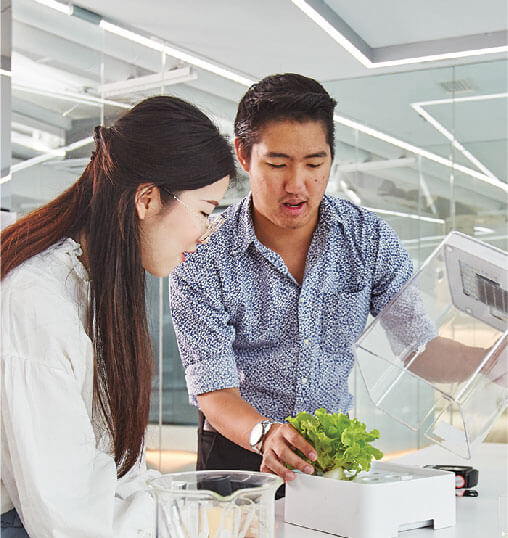 WELL Building Standard
Based on six years of R&D involving architects, doctors, scientists, and wellness thought leaders, the WELL Building Standard (WELL) is the world's first building standard focused exclusively on human health and wellness.

Human health and wellness in buildings and communities are promoted by the International WELL Building Institute (IWBI), which is a public benefit corporation. IWBI was launched to the public in 2013 following a Clinton Global Initiative to set up a new global standard for the built environment.
WELL is recognized as the front line in rating systems for professionals to match their convictions with their careers. The first official version covers new and existing buildings, interior spaces, and 'core and shell', seeking to implement, validate, and measure features that enhance human health and wellness.
WELL Building Standard concepts
The WELL Building Standard focuses on the performance of a building in seven concepts relevant to occupant health: air, water, nourishment, light, fitness, comfort, and mind. WELL Certified spaces should enhance the nutrition, fitness, mood, sleep patterns, and performance of their occupants.
Projects are evaluated through performance verifications, visual inspections, spot checks, professional descriptions, and letters of assurance. Certification also requires a passing score in each of the seven categories of the WELL Building Standard. A project can pursue three levels: Silver, Gold, and Platinum.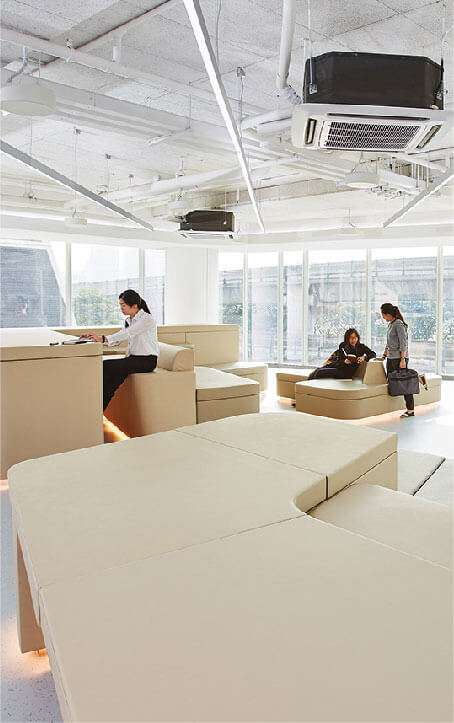 Key aspects of the
RISC office
Air
Because we spend over 90% of our time indoors. RISC is designed to ensure high indoor air quality. MERV 13 is installed to remove indoor and outdoor airborne contaminants through air filtration. To minimize the effect of VOCs in building materials on the indoor environment, we work closely with architects, engineers, and contractors to ensure that furniture, interior paints and coatings, sealants, adhesives do not contain VOCs. Beyond the WELL standard, our stationery is also VOC-free. The indoor air monitoring system measures real-time indoor air quality issues. Displays are also available throughout the office space.
Water
Two properties, turbidity and total coliforms, of all water designated for human contact meet WELL requirement. High-quality drinking water is also easily accessible, promoting its consumption. Furthermore, we promise to maintain high quality water through regular water quality monitoring and remediation because we know inorganic-organic contaminants, agricultural contaminants, disinfectants, disinfection by products, and fluoride in drinking water are harmful.
Sound
Noise pollution is a top issue in offices, so RISC is designed to reduce acoustic disruption and keep conversations private. RISC is considered as Thailand's first office to use a sound-masking system to reduce noise distractions and protect speech privacy. Specifically engineered to mask human speech, sound masking helps boost productivity and privacy.
Light & View
Proximity to windows, outdoor views and daylight in indoor spaces are some of the most sought-after elements of design because we aim to utilize daylight as a primary source of lighting. Design strategies for artificial light have been considered under WELL's light concept, such as circadian lighting design, glare control, and color quality. Importantly, simulation software has also been used to minimize disruptions to circadian rhythms, enhance productivity, boost sleep quality, and provide appropriate visual acuity where needed.
Cleaning Protocol
Design and construction are crucial but so is operation. The protocol aims to reduce occupants' exposure to harmful pathogens and hazardous chemicals through the use of high-quality cleaning equipment and the proper storage of cleaning agents.
Active Furniture
Active workstations are promoted in RISC. Height-adjustable standing desks and BIFMA standard seating help promote physical activity in the workplace. Portable desk pedals are also available for those who want to do physical activity during the day to reduce sedentary behavior.
Accessibility
We seek to make buildings accessible and usable by people of all physical abilities. The alternative level of registration, searching screen are considered for wheelchair persons. Universal Design is at the heart of concept since we started the development.
Post-occupancy Survey
To ensure that the building performs according to design intentions, occupants will be able to provide feedback to owners and management through a post-occupancy survey, helping clear up any issues over thermal, visual, or acoustic comfort.
Why does
it matter?
WELL Certified projects harness the built environment to support human health and well-being. They combine best practices in design and construction with evidence-based medical and scientific research into how the buildings where we spend over 90% of our time affect our health and wellness.
All these aspects align with our core competency: for all well-being. RISC, as a member of MQDC, sets out to lead the real estate industry, locally and globally. WELL advances RISC's ambitions to create workplaces where staff can work or brainstorm anywhere, turning any corner of their office into their workspace.