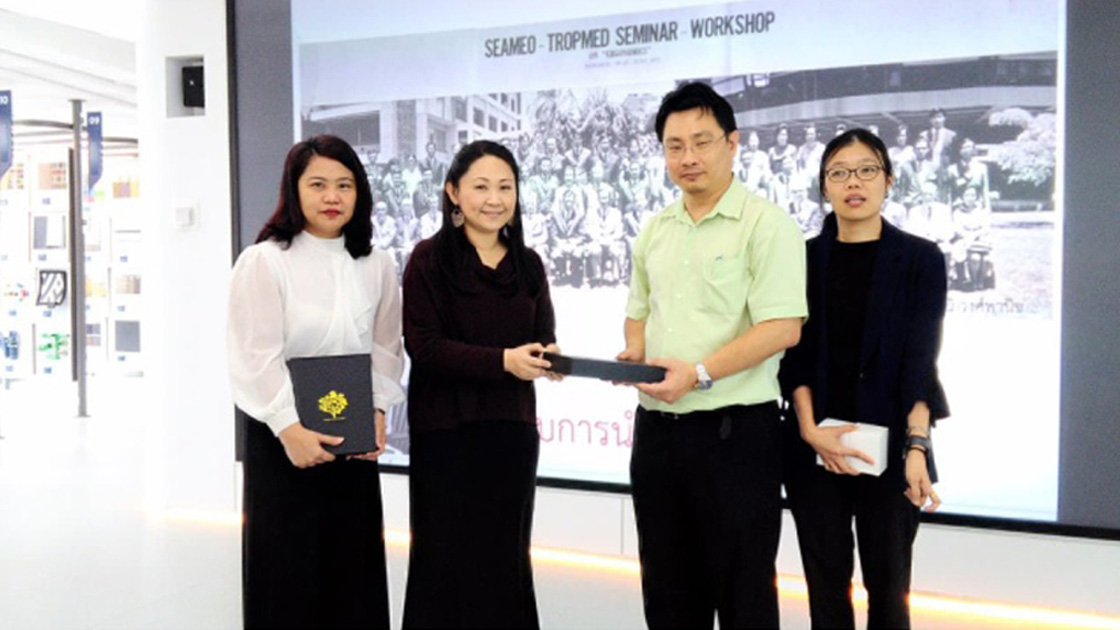 Mar 14, 2019 INNOVATION
Faculty of Engineering at Chulalongkorn teams up with RISC for research into older adults
26 February 2019, Bangkok – Research & Innovation for Sustainability Center (RISC) welcomed a team of researchers led by Asst. Prof. Dr Pairoj Ladavichitkul, the main researcher, with Asst. Prof. Kulthida Thechaworasingsakul, advisor, and Asst. Prof. Haruethai Lohasiriwat, researcher, to present research between the Faculty of Engineering of Chulalongkorn University and RISC on 'Anthropometric data and movement range of Thai elders for living design'. Asst. Prof. Pairoj presented the results from measuring the movement of 225 older people from 56 years in age in walking, bending down, sitting, and cooking, with the objective of developing medical products.
The study also investigated the ideal height of tables and size and position of chairs for older adults depending on their age and sex. The information and research results will be applied to MQDC projects and help develop prototypes for other real estate developers.
Research & Innovation for Sustainability Center
Magnolias Ratchadamri Boulevard 4th Floor Ratchadamri Road,
Lumpini Sub-district, Patumwan District, Bangkok 10330

---
Opening Hours
Monday – Friday | 11.00am – 5.00pm
---
Directions
Media and Public Relations
For all media enquiries, please contact MQDC's Corporate Marketing department.
Phone: 1265, Attention PR Office
Email: [email protected]
About MQDC
Magnolia Quality Development Corporation Limited (MQDC), the property development arm within the DT Group of Companies (DTGO), traces its origins to the founding of Town & Country Development Co., Ltd in 1994.
Visit Website