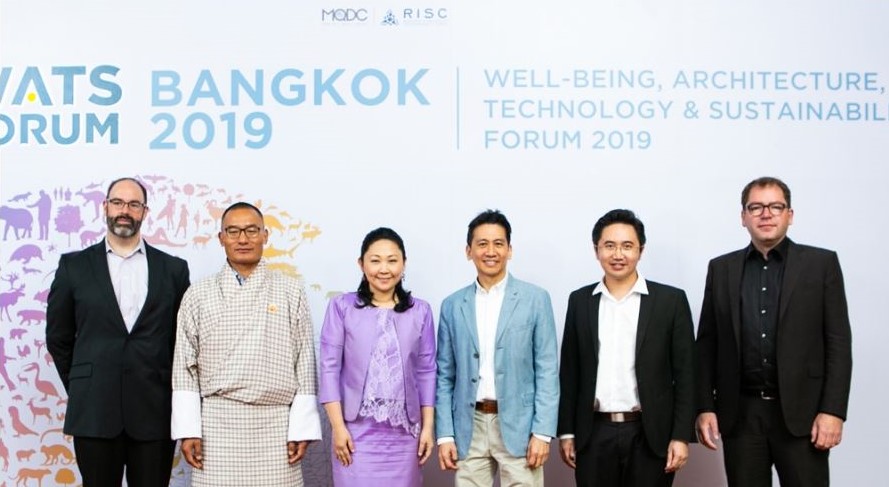 Jun 05, 2019 INNOVATION
WATS Forum shares new ideas for sustainable well-being
'3 June 2019, Bangkok – WATS Forum hosted 4 global experts on well-being and sustainability, inspiring an enthusiastic audience of about 1,000 at the Bangkok Convention Centre at Centara Grand in CentralWorld.

Hosted by MQDC's Research & Innovation for Sustainability Center (RISC), the forum featured Dasho Tshering Tobgay, Former Prime Minister of Bhutan, as well as Professor Michael S. Strano from MIT, Assoc. Prof. Dr. Yodchanan Wongsawat from Mahidol University, and Stefan De Koning, Senior Associate Architect at the influential urban design practice MVRDV.

As an acronym for Well-being, Architecture, Technology, and Sustainability, WATS Forum examined new ideas across these fields to achieve RISC's guiding principle 'for all well-being' – the well-being not only of humans but of all living beings.

Assoc. Prof. Dr. Singh Intrachooto, Chief Advisor of RISC, inaugurated the event. "Sustainable well-being requires a real concerted effort," he said. "Working in silo or hoarding knowledge within our own organizations would prevent us from achieving a happier and healthier planet."

Dasho Tshering Tobgay spoke on Bhutan's commitment to Gross National Happiness (GNH). "We bring a very holistic approach to developing the environment, protection, security, trust for our people to fulfill their potential as human beings, be it socially, economically, or spiritually," he said.

Professor Michael S. Strano presented on nanobionics, including its potential to create light-emitting trees. "They could take the place of streetlamps and wouldn't need an electricity supply, reducing power demand," he said.

Assoc. Prof. Dr. Yodchanan Wongsawat discussed his work on the brain-computer interface (BCI), transforming life for people with disabilities. "I want to be able to create opportunities for people with disabilities to move themselves because that's their dream."

Stefan De Koning shared ideas to make Bangkok a green and sustainable city. "The question is how we can improve quality of life while growing the city," he said. "What if we were to stack the sois on top of each other?"

Assoc. Prof. Dr. Singh Intrachooto gave concluding remarks. "If we all think about our society and our environment, making that a priority, maybe we'll have a chance to create a happy future," he said.
Research & Innovation for Sustainability Center
Magnolias Ratchadamri Boulevard 4th Floor Ratchadamri Road,
Lumpini Sub-district, Patumwan District, Bangkok 10330

---
Opening Hours
Monday – Friday | 11.00am – 5.00pm
---
Directions