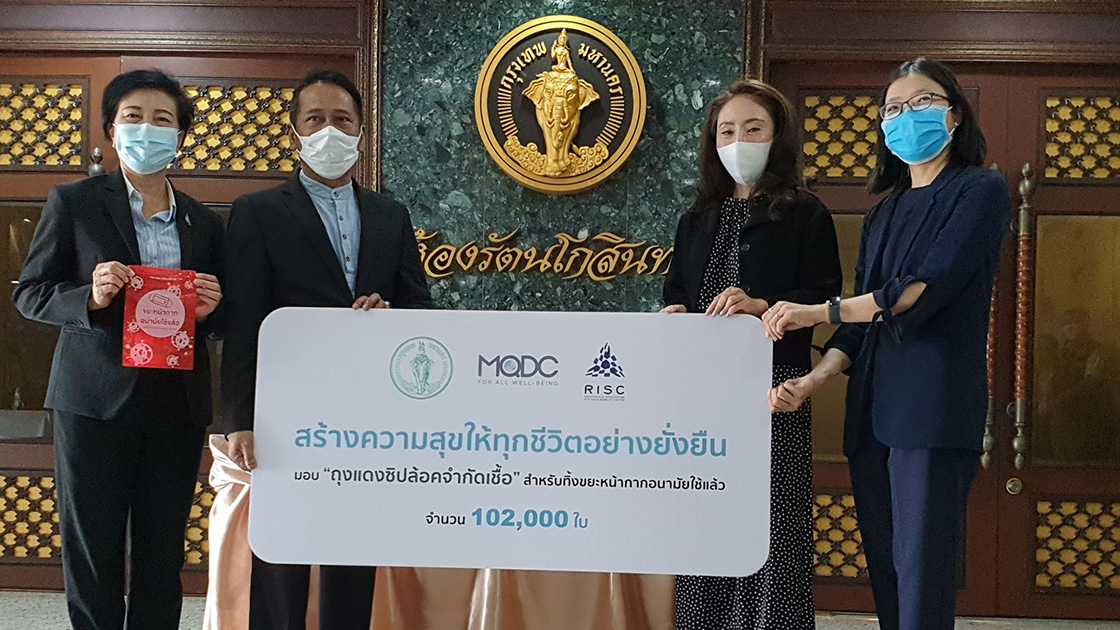 May 30, 2020 INNOVATION
RISC by MQDC Presents Innovative Red Zip-Lock for Proper Disposal of Masks during COVID-19 to Protect Communities and People from Infection
29 May 2020, Bangkok – Assoc. Prof. Dr. Singh Intrachooto, Chief Advisor to the Research & Innovation for Sustainability Center (RISC), said that RISC by MQDC presents innovative research-based "Red Zip-Lock" for appropriate disposal of used masks during the COVID-19 outbreak.

Under its mission of "For All Well-Being" for the sustainable well-being of all life, MQDC is countering infection risk by distributing 150,000 bags. Whizdom Club members, residents of MQDC projects, and civil society will receive a total of 50,000. Through the Office of the Permanent Secretary for Bangkok, MQDC will give another 100,000 to communities and the general public.

"Used masks are classed as infectious waste because secretions from coughing and sneezing can spread disease. They pose a high risk of spreading infection, especially to garbage collectors, so it is essential they are disposed of correctly. The 'Red Zip-Lock' are an innovation for sustainability or 'sustainnovation' that addresses the issue. The high visibility of the bags, in particular, protects garbage collectors from the risk of infection. Masks can now be seen clearly, helping workers separate the red bags from general waste for appropriate disposal, separated from other types of waste. The red bags are also an efficient use of plastic, since each can contain up to 6 used masks, so are another way to reduce environmental problems," said Assoc. Prof. Dr. Singh.

Mr. Sakchai Boonma, Deputy Governor of Bangkok, said that he would like to thank the Research & Innovation for Sustainability Center (RISC) and Magnolia Quality Development Corporation Limited (MQDC) for helping Bangkok with its "Red Zip-Lock". About 100,000 bags will be distributed to communities and the general public in Bangkok to reduce the risk for garbage collectors in line with waste management guidelines in the 20-Year Development Plan for Bangkok for 2013-32. The plan aims for efficient waste management with a vision of participation from all sectors under the concept of "Zero Waste". Bangkok's infectious waste comes mostly from hospitals and is incinerated. The Nong Kham waste disposal center can handle up to 42 tons of infectious waste daily and the Onnut center can process 60 tons. The campaign will promote correct disposal of used masks during the outbreak. Specialized bins have been set up at 50 district offices during the COVID-19 pandemic.

A RISC research team led by Ms. Panpisu Julpanwattana, Senior Sustainable Designer, and Ms. Tiptaptim Bhumibhanit, Senior Sustainable Designer, researched why many used masks are thrown away in general trash. A survey of 2,250 people found that 90.4% are aware that discarded masks affect the environment and pose an infection risk. But only 22.3% of respondents dispose of them in infectious waste bins. The survey found 32.8% put used masks in bags and then general trash and 36.3% put them directly with standard waste. The study found that 70% of respondents dispose of masks incorrectly because they cannot find a bin for infectious trash, while 24.4% do not know where to dispose of them.

RISC therefore developed the "Red Zip-Lock" as an innovation for disposing of used masks. The bags can completely resolve the issue, in the view of 95% of survey respondents. The bags let garbage collector identify used masks and dispose of them correctly. The red bags present the most convenient solution, with waterproof plastic to prevent infection and capacity for several masks, according to 55.3% of respondents. Written text can also be added to let users thank and encourage garbage collectors.

For civil society, the "Red Zip-Lock" are given to community nurses in Pom Prap Sattru Phai District and Samphanthawong District and recovered patients. The infoAid network helped identify vulnerable groups such as children, the elderly, the homeless, people with disabilities, women, pregnant women affected by COVID-19. Ten foundations assisted: Thai Traditional Medicare Foundation and Southern Folk, Labour Protection Network Foundation, The Foundation of Transgender Alliance for Human Right, Service Workers in Group Foundation (SWING), Foundation for Rural Youth (FRY), Thai Arthon Foundation, Lamplaimat Pattana School (non-profit private school), Baan Oon I-Rak for Orphans and the Underprivilegd, Chomphu Sub-district Disabled Service Center, Maha Sarakham Children and Youth Network, Eastern Friends Group (Eastern Homeless Workers Team), Women's Wellbeing and Gender Justice Program, Women's Wellbeing and Gender Justice Program (Pa Mung Sub-District) and Care the Whale: Climate Action Collaboration @Ratchada District Project and other organizations.
Research & Innovation for Sustainability Center
Magnolias Ratchadamri Boulevard 4th Floor Ratchadamri Road,
Lumpini Sub-district, Patumwan District, Bangkok 10330

---
Opening Hours
Monday – Friday | 11.00am – 5.00pm
---
Directions