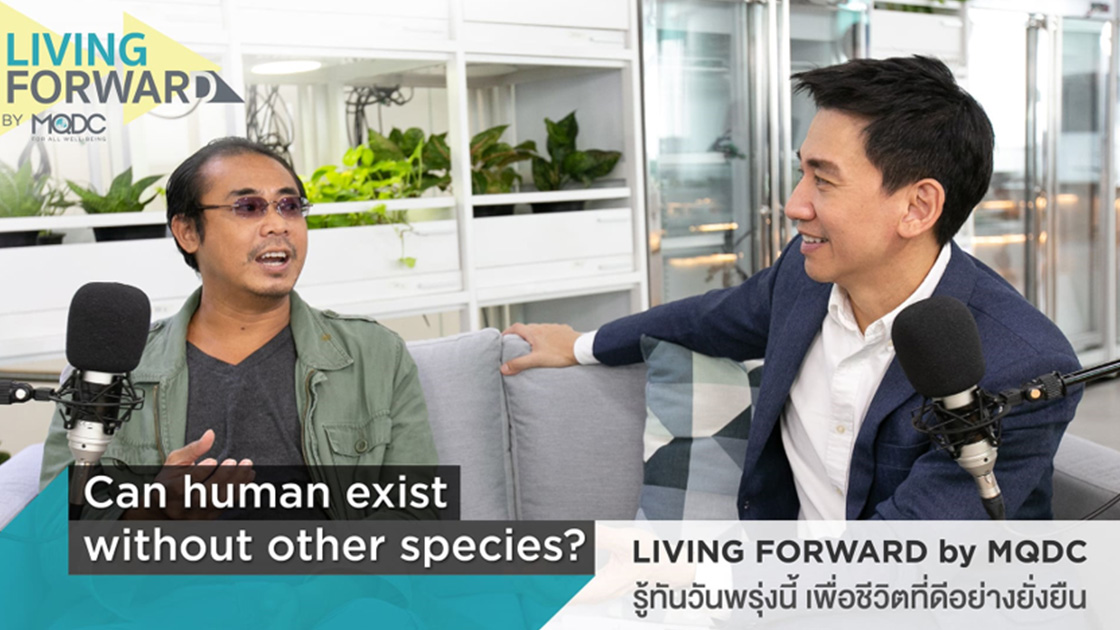 Dec 08, 2020 INNOVATION
MQDC Debuts World's First "Biodiversity Standard" for Property Development to Conserve and Balance Ecosystems
08 December, 2020 MQDC is following its principle of "For All Well-Being" for the well-being of all life on earth with "LIVING FORWARD by MQDC", an online series of videos and podcasts under the concept of "Know tomorrow for well-being and sustainability". Episode 3 addresses "Can human exist without other species?" Tune in on 5 channels:
Facebook: MQDC – Magnolia Quality Development Corporation
YouTube: MQDC For All Well-Being
Podbean: mqdc.podbean.com
Spotify: MQDC For All Well-Being
Apple Podcast: MQDC For All Well-Being

Assoc. Prof. Dr. Singh Intrachooto, Chief Advisor to Research and Innovation for Sustainability Center (RISC) by MQDC, and Mr. Surin Warachun, Assistant Vice President and Ecologist at The Forestias by MQDC, present their environmental experience to launch a new approach in property development to conserve and restore biodiversity.

Assoc. Prof. Dr. Singh Intrachooto said that biodiversity is one of RISC's 7 core research areas under the concept of "For All Well-Being" for the well-being of all life on earth. RISC also believes that humans can only enjoy genuine well-being if the rest of nature also flourishes. RISC curates the "Biodiversity Standard" as the world's first property development standard for protecting and preserving ecosystems. The standard involves initially exploring project sites before development to find and identify species such as trees, terrestrial animals, aquatic animals, insects, and to study soil, water, and air conditions. Experts then work together to find the best ways to move plants and animals to appropriate and safe environments. Once construction is completed, the ecosystem within the project is then conserved through systematic and holistic measures.

Mr. Surin Warachun, Assistant Vice President and Ecologist for The Forestias by MQDC, said he wanted property development to study biodiversity conservation, with careful planning before project development to maintain the relationships between living beings, small and large, to achieve sustainable development with good quality of life. Diversity of life makes ecosystems stronger, as species help and support each other.

Biodiversity helps sustain ecosystems. Healthy ecosystems benefit all life, such as by slowing climate change, preventing disasters, and providing knowledge in botany, zoology, ecology, microbiology, medicine, agriculture. They also contribute to economic development, through plants and animals that create jobs and generate income. Biodiversity, for instance, supports different types and qualities of rice as well as a range of marine fish that can be eaten or sold. Throughout each day of our entire lives, biodiversity is also integral to our lifestyles. Plant fibers provide clothing. Wood helps create our homes. Plants and animals give us food and medicine. The antibacterial drug penicillin, for example, comes from fungus.

Ecosystems also provide benefits in well-being and quality of life. Natural areas with trees and animals are relaxing and restful. Thoughtless destruction of ecosystems includes the use of fertilizers and insecticides that harm bees that fertilize plants and ladybugs that help control pests. Biodiversity is increasingly under threat, including through marine pollution and overfishing that reduce stocks and raise prices. Deforestation is aggravating issues such as the loss of tigers that control elephant populations. Diseases are arising from our interactions with wildlife, which we see as carriers. Fireflies are disappearing because of pollution. But we can all help by thinking more carefully about our lifestyles. Together, we can play a key role in restoring biodiversity. Biodiversity is complex in all its internal mechanisms, but its value is clear.

MQDC has developed The Forestias, a 243-rai forested district at Bangna-Trad KM7 focused on biodiversity. The development brings together nature, humans, and animals in a high-quality living environment that conserves ecosystems and contributes to global environmental action. Learn more about biodiversity at "Could Humans Survive Without Other Species?".

LIVING FORWARD by MQDC is hosted by Toffy Bradshaw (Chayatat Vongmanee), a famous host and writer, along with 2 experts who will take turns to share views and ideas on "Know Tomorrow for Well-Being and Sustainability" in fun, accessible, and engaging ways.
Research & Innovation for Sustainability Center
Magnolias Ratchadamri Boulevard 4th Floor Ratchadamri Road,
Lumpini Sub-district, Patumwan District, Bangkok 10330

---
Opening Hours
Monday – Friday | 11.00am – 5.00pm
---
Directions