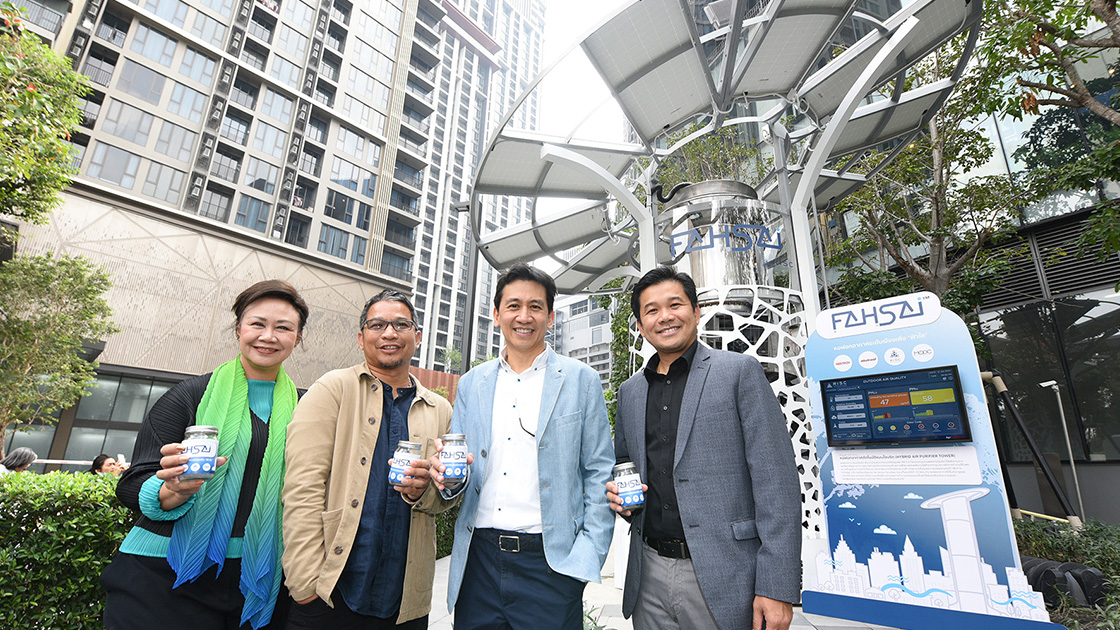 Jan 23, 2020 INNOVATION
RISC by MQDC introduces "Fahsai" urban air purifier tower
28 January 2020, Bangkok – Research & Innovation for Sustainability Center (RISC) by Magnolia Quality Development Corporation Limited (MQDC) has followed its principle of 'For All Well-Being' to promote the health and well-being of all living beings by developing with NESTECH Thailand Company Limited a prototype urban air purification tower named "Fahsai". The hybrid air purifier tower can purify up to 120,000 cubic meters of air/hour. MQDC is the first property developer in Thailand to address air quality. "Fahsai" will be installed throughout 2020 at the Family Park in front of Whizdom Essence Sukhumvit at 101 True Digital Park. The tower will purify air and also collect data on the weather and the machine's operation to help develop next-generation urban air purifiers with enhanced efficiency. RISC plans to develop an air purifier at the city level, constantly reducing pollution in the city, with a budget of over THB10 million.

The automatic hybrid air purifier tower gathers PM2.5 particles with a hybrid energy system that combines a 3,850 Watt solar panel and a battery. This combination helps reduce dependence on an external electrical supply. High-speed fans suck air into the system, which separates large and small dust particles with air velocity and water spray in a continuous 3-layer Jet Venturi Scrubber system. The systems use 70 liters of water and can purify up to 120,000 cubic meters of air/hour. An intelligent system controls the motor of the fans in accordance with the concentration of dust until PM2.5 levels return to normal.

RISC will collect data from the "Fahsai" air purifier tower over an entire year to understand conditions in each season to raise the system's operating efficiency. The installation of "Fahsai" will have a limited impact on overall PM2.5 levels. While the device will improve air quality in its surroundings, it cannot improve air quality across Bangkok. RISC plans to collect data throughout the year to improve and develop "Fahsai". The center aims to introduce "Fahsai" devices in many areas to create safe zones for society. RISC is also developing air purifier towers with other systems, to be used according to the area's needs, for locations with high traffic pollution and will introduce air purifiers with enhanced efficiency in the future.
Research & Innovation for Sustainability Center
Magnolias Ratchadamri Boulevard 4th Floor Ratchadamri Road,
Lumpini Sub-district, Patumwan District, Bangkok 10330

---
Opening Hours
Monday – Friday | 11.00am – 5.00pm
---
Directions