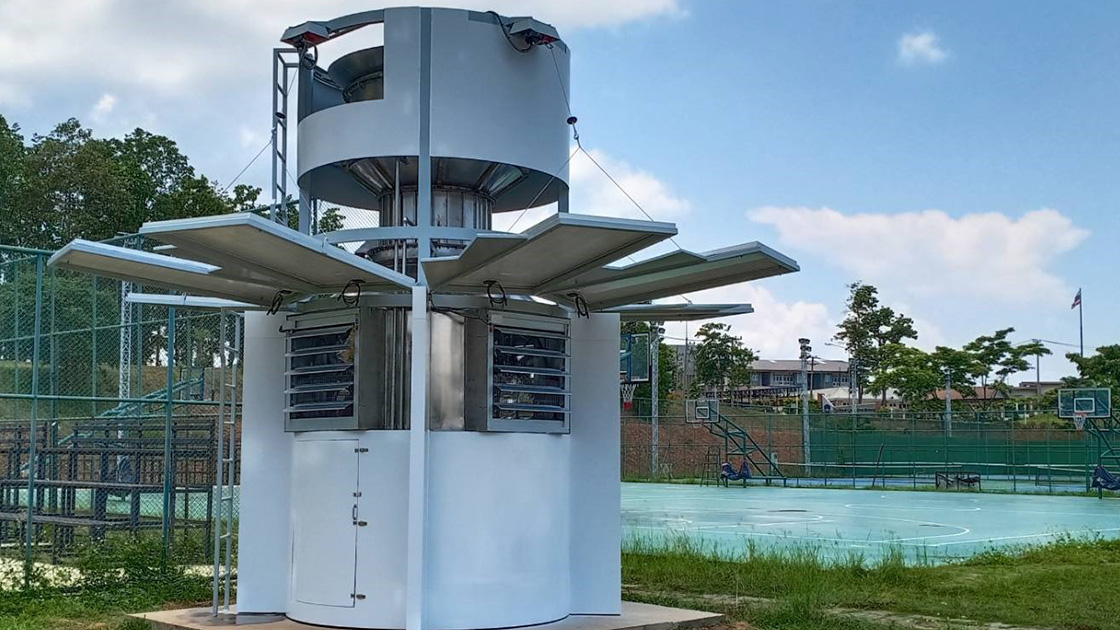 Jun 03, 2021 INNOVATION
RISC by MQDC Works with University of Phayao on "Fahsai 2" at Phayao, an Enhanced City Air Purifier Tower to Research PM2.5 in the North of Thailand
1 June 2021, Bangkok - Research & Innovation for Sustainability Center (RISC) under Magnolia Quality Development Corporation Limited (MQDC) is working with the University of Phayao's Innovation and Technology Transfer Institute, Faculty of Engineering, and School of Public Health to expand its city-level air purification tower in the region, launching "Fahsai 2 at Phayao", Thailand's third "Fahsai" (Sky Clear) and the first in the region to help alleviate PM2.5 dust in Phayao province

Assoc. Prof. Dr. Singh Intrachooto, Chief Advisor to Research & Innovation for Sustainability Center (RISC) by MQDC, said: "RISC is researching under its 'sustainnovation' principle for the well-being of all life with the Institute of Innovation and Technology Transfer, Faculty of Engineering, and School of Public Health of the University of Phayao to launch the second version of our hybrid automated city-level air purification tower, 'Fahsai 2', as Phayao's first urban air purifier tower. In addition to helping tackle air pollution, especially PM2.5 dust, it also helps filter germs from the air. This project applies RISC's 7 core research areas in Health & Wellness, aligned with UN Sustainable Development Goals for 3) Good Health and Well-Being, 6) Clean Water and Sanitation, 11) Sustainable Cities and Communities, and 15) Life on Land.

"Phayao is in the top 3 northern provinces for PM2.5 dust, mainly from open-air burning of biomass. PM2.5 has risen in recent years to over 500mg/cubic meter in burn-off areas and downwind. Breathing fine PM2.5 particulates can greatly harm respiratory systems and lungs, causing high blood pressure, heart disease, and strokes. Children, pregnant women, older adults, and people with medical conditions are at especially high risk. RISC wants to support innovation to improve air quality in the north. We are committed to studying particulates and working with partners to reduce air pollution in both cities and rural areas. 'Fahsai 2 at Phayao' can purify and disinfect air to reduce the problem of particulates in the north, with Phayao as the pilot province. The project includes cooperation in air quality research to understand particulate matter, which may differ between areas because of where the dust originates. Research can develop and spread new knowledge for many areas," said Assoc. Prof. Dr. Singh.

Assoc. Prof. Dr. Supakorn Pongbangpho, Chancellor of the University of Phayao, said: "The University of Phayao is delighted to help drive the reduction of PM2.5, which harms health, and to develop research with RISC by MQDC for the first innovative hybrid city-class air purification tower in the north to address air pollution and particulates. The School of Public Health and the Faculty of Engineering with RISC are jointly studying air quality, health impacts, protection from smoke particles, and air quality data to research particulates around the university campus and the area near 'Fahsai 2 at Phayao' to create a digital dust database together."

"Fahsai 2 at Phayao", the city-level air purification tower, uses the same technology as "Fahsai 2" at the Airport Rail Link at Makkasan Station in Bangkok with an automatic air purification system. The hybrid air purifier tower combines energy from its solar panels with mains power to reduce its daytime electricity demand and achieve environmental and sustainability goals while enhancing well-being. Developing on the first generation of Fahsai, the device has an enhanced ability to kill bacteria, fungi, and viruses using UVC and ozone.

The air purifier tower's capacity has also been enhanced with 4 larger fan blades each moving 30,000 cubic meters/hour (up from 15,000) for a total of 120,000 cubic meters/hour to serve an area of about 1 football field. The device has meanwhile been reduced to 5.1 meters in height with a base 2.4 meters wide to facilitate access and reduce construction costs. The outflow has been redesigned to prevent reversed airflow. A new design for the moisture trap prevents water spray being blown out. Adjustable solar panels help control the direction of clean air to be at an effective level and travel further. The solar panels can be adjusted according to sunlight. They unfold during the day and close at night, when lighting comes on to enhance safety.

The first-generation "Fahsai" city-level air purification tower was installed at 101 True Digital Park in 2020. RISC launched the second generation of "Fahsai 2" in early 2021 at the Makkasan Airport Rail Link Station to help solve the problem of air pollution, especially PM2.5 dust and airborne germs. The project aims to help tackle air pollution in many areas.
Research & Innovation for Sustainability Center
Magnolias Ratchadamri Boulevard 4th Floor Ratchadamri Road,
Lumpini Sub-district, Patumwan District, Bangkok 10330

---
Opening Hours
Monday – Friday | 11.00am – 5.00pm
---
Directions