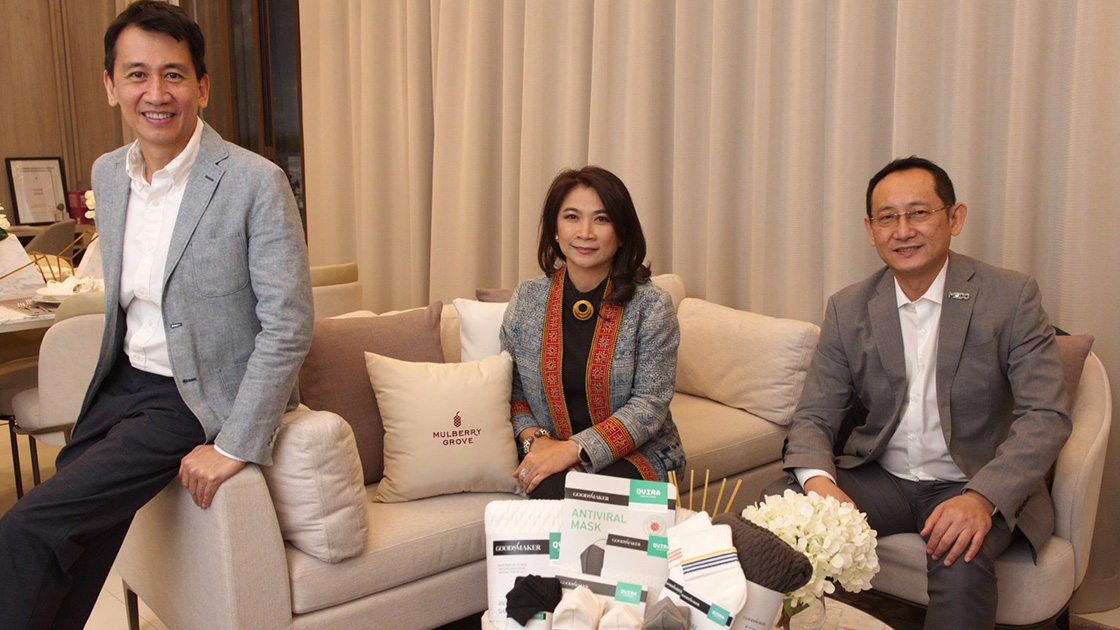 Dec 01, 2021 INNOVATION
MQDC Elevates Comfort and Well-Being to a New Level with the Launch of "Antiviral Fabric"
11 November 2021, Bangkok – Magnolia Quality Development Corporation Limited (MQDC), in collaboration with internationally recognized textile manufacturer IK-KRAFT Company Limited, held an online press conference to introduce a new antiviral fabric. "FOR ALL WELL-BEING, BETTER LIVING WITH ANTIVIRAL FABRIC" announces an initial step by MQDC to enhance quality of life and well-being in the New Normal. Boosting sustainability, the collaboration transforms innovative QVIRA fibers into a new generation of fabric that inhibits the growth of viruses and bacteria. The fabric will be used at every sales office and common space in MQDC residential projects to enhance safety and peace of mind. Mr. Visit Malaisirirat, CEO of Magnolia Quality Development Corporation Limited (MQDC), said: "MQDC is a property development leader that values innovation, well-being, and sustainable living for all residents, visitors, society, and all life on earth. MQDC is committed to developing residential projects that meet the needs of the rapidly changing world and elevate well-being. This approach aligns with our vision to achieve sustainability and enhance quality of life for all living beings on the planet, which we call 'For All Well-Being'. "The collaboration with IK-KRAFT is part of our strategic move toward enhancing the well-being of people and truly meeting residential needs. QVIRA Antiviral Fabric, a cutting-edge, high-performance fiber innovation that effectively inhibits the growth of viruses and bacteria by up to 99%, will be transformed into products for various applications at the sales offices and common spaces of all MQDC residential projects. The fabric is expected to create a sense of safety and peace of mind while ensuring hygiene for residents, customers, employees, and surrounding communities, leading to a better quality of life, safety, and sustainability for all." Assoc. Prof. Dr. Singh Intrachooto, Chief Advisor to Research & Innovation for Sustainability Center (RISC) by MQDC, said: "RISC by MQDC is committed to creating and developing research and innovation through collaborations with domestic and international experts under the sustainnovation approach. The aim is to foster sustainability in every MQDC project and care for the environment to enable sustainable development. To continuously enhance well-being, we have been working with partners in research projects to develop products for well-being and balanced living in harmony with the environment.

"One of our current projects is the design and development of materials through upcycling to give new value to waste and extend the life of used materials for everyday use. Making best use of natural resources is within RISC by MQDC's research focus, which includes Health & Wellness and Materials & Resources.

"Recently, we have partnered with IK-KRAFT to bring to life QVIRA Antiviral Fabric with antimicrobial properties. Tailored for sustainable lifestyles, all the newly created products align with the New Normal, giving protection from diseases that might emerge in the future. The QVIRA fibers are woven together with material from 100% plastic waste to create a new upcycled fabric that is safe for health and the environment, eliminating the mounting waste problem and reducing environmental damage to the planet. Ideal for home and everyday use, these textile products enhance quality of life.

"RISC by MQDC continues to conduct research and develop innovations to deliver new products that benefit the residential development industry and meet the needs of living in the New Normal, meeting future changes to help achieve well-being while promoting sustainable living," said Assoc. Prof. Dr. Singh.

Dr. Kritsana Sukboonyasatit, CEO of IK-KRAFT Company Limited, said that the partnership is another successful step in textile innovation for better health and well-being.

"QVIRA Antiviral Fabric is an innovative fiber of the future with high-performance nanotechnology. It can be deeply embedded into new fabric and provides up to 99% inhibition against viruses and bacteria, eliminating viruses immediately at first touch by means of ion exchange. This process weakens the viral protein spikes so that viruses become less active and stop multiplying. Certified for ISO 18184 and tested by leading laboratories around the world, it effectively controls various viral strains as well as bacteria, mold, dust mites, and musty odors.

"Smart-fiber QVIRA can be integrated in a variety of fabrics, enabling the creation of textile products that are safe for health and impressively allow for safe living in the New Normal. It can be transformed into a variety of items for home use and daily use such as cloth masks, gloves, socks, handkerchiefs, and foot towels.

"In addition, these high-quality textile products are not only installed at every sales office and common space of MQDC residential projects, but are available at special discounts to MQDC residents and prospective customers. QVIRA products can now be purchased online at goods-maker.com or at Line MyShop at https://shop.line.me/@goodsmaker. You can be part of the effort to protect yourself and all of us from viruses and bacteria and cultivate well-being in a sustainable way of life," said Dr. Kritsana.


Research & Innovation for Sustainability Center
Magnolias Ratchadamri Boulevard 4th Floor Ratchadamri Road,
Lumpini Sub-district, Patumwan District, Bangkok 10330

---
Opening Hours
Monday – Friday | 11.00am – 5.00pm
---
Directions